If you are finding a pay online bill process, you can follow how to Pay Palli Bidyut Bill by bKash! It is easy today; we will share step by step full process h How to Pay Palli Bidyut/Electricity Bill by bKash, which helps to easily payment in online your electrify bill. There is no extra charge for pay Palli Bidyut Bill through by using the bKash App.
bKash provides many helpful services like Cash out, send Money, transfer Money, Mobile recharge, withdraw Money, shopping bill, pay the bill, and more, which helps make a hassle-free life.
On July 9, 2018, has been started bKash Palli Biddut Bill service for the peoples. Now it is a very popular pay bill online system. So, let's check-in below the process of How to Pay Palli Bidyut Bill through the bKash App.
Palli Bidyut (Rural Electricity) Bill Service Details.
In daily, there are many peoples search on the internet how to pay payment Palli Vidyut bill for Palli Vidyut pays online. bKash has stared the services as a name Pay Bill. Every account holder can take the facilities by maintaining the procedure.
Check Bill: By using a personal Bkash account, you can pay two Palli Bidyut (rural electricity) bills. Daily 5 times and monthly 50 times, you can check the electricity bill in a bKash account.
Pay Bill: Take advantage as a pay bill through the bKash Android App, it is easy, and without free of cost.
Beneficiary: For the customer, the bKash pay bill Beneficiary system helps you view/ add/ delete recipients for different billers that will help to reduce bill payment steps.
Pay Palli Bidyut Bill by bKash 2021
Are you Palli Bidyut users, and if you want to pay bill online, this article for you. In this article, we have step by steps shared How to Pay Palli Bidyut Bill by bKash. Let's follow the below Instruction for pay Electricity Bill through bKash from your bKash Wallet.
First, download bKash from Google Play Store and Install it in your device.
Open your bKash app and please dial *247# and follow the steps:
1. Press 5 and select "Pay Bill" Options.
2. Press 1 and select "Electricity"
3. Press 1 and select "Palli Bidyut"
4. Type 2 and select 'Make "Payment"
5. Type 1 and choose "Enter' Input Bill Account number" (Palli Bidyut: Enter 13 digit Account Number from Bill Copy)
6. Enter Bill Month and Year (MMYYYY)
7. Enter Bill Amount
8. Enter your bKash PIN Number for Confirmation
You will get Customer receives two confirmation SMS from bKash
Wait for confirmation SMS, and finally, you will get a pay bill confirmation message. Done
I hope you have done the Palli Bidyut Bill Through bKash by reading our article. If you have any confusion, you can check again carefully and see the below image.
How to Pay Palli Bidyut Bill by bKash App
DESCO, Bill by using USSD code form the bKash accounts. Now we have added step by step guidelines of How to Pay rural Electricity Bill by bKash App. You can follow our pay bill online steps, which helps pay bills from home.
Download the bKash App from Google Play Store and install it on your device.
Open the bKash App and put your personal information.
Now Dial #247*
Chose 5 and select "pay bill options"
Chose 1 and select 'Electricity options'
Chose 1 and selected Palli Bidyut options
Type your Palli Bidyut Bill (13 Digit) Account number
Put your bill amount, and the last date, then confirm.
Confirm your bKash 'Pin Number. '
Hold to confirm your Bill.

You will receive a confirmation message.

Finally, Done.
Hopefully you will done Rural Electricity Bill Through bKash by following the article steps. If you have any confusion, Please check 2nd time the guideline.
Palli Bidyut Bill Check Process By Bkash .
In some cases need to know bill details, now we have shared the Palli Bidyut bill check process for the users. Simple to dial *247*, select 5 for pay bill, select 1 for Electricity, Type 1 select "Palli Bidyut" Type 1 select "check bill" Type 1 select "Input bill account number "enter the customer bill number, put bill month, year, enter the PIN, wait for SMS notification form Bkash, and finally you will get bill details. For clear concept to follow below image.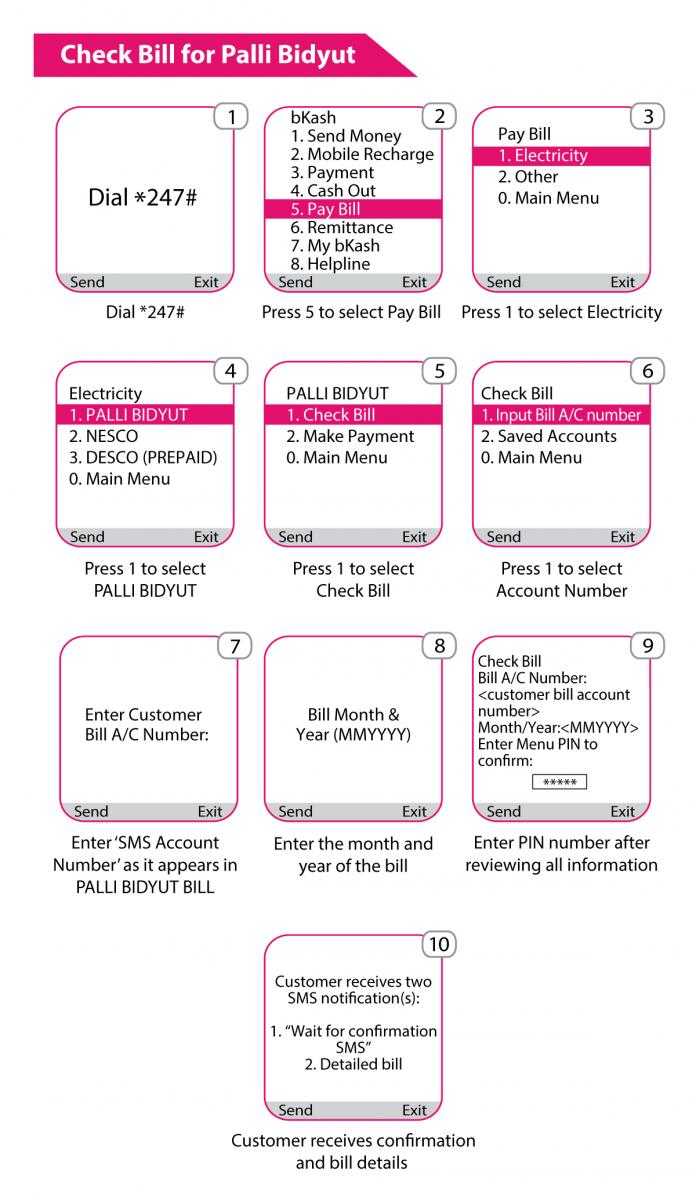 Beneficiary Process of Palli Bidyut/ Rural Electricity Bill From Bkash
The beneficiary is helping Bkash users. The process saved their essential information such as; Message Account service, recipient name that will help to identify your previous data for future bill payment systems. So, if you are mistaken in pay bill during the time, the Bkash Beneficiary option will be considered users info. Now, you can add 10 Beneficiary For every biller. Just let's check the image below for clear underrating.
Final Thoughts:
Hopefully, to understand all of the steps to pay Palli Bidyut (Rural Electricity) by bKash apps. No doubt this How to Pay Palli Bidyut Bill by bKash service will give flexibility for pay bill online form home. Simply you can follow our mentioning steps as a How to Pay Palli Bidyut/Electricity Bill by bKash 2021 and share with others, which helps peoples introduce the process of the Palli Vidyut bill payment system by bkash without any hassle. Anyway, if you have any question, please let me know by below comments box, we will answer for more information to visit www.wikiofinfo.com. Thanks for visiting, hope to come back again.
You May Also Like: How to Pay Gas, Utility and Electricity Bill by BKash
I am Md. Shihab Uddin. Here I am sharing all kinds of general information for the peoples. I love traveling, listening, and help communities. I continuously try to give truthful quality content for the viewers. Thanks for visiting Read More
শেয়ার করতে নিচের বাটন এ ক্লিক করুন ...