We all know Grameen Phone is a top-rated SIM company in Bangladesh. Skitto SIM is a sub-brand SIM of Grameen Phone. Which is specially designed for internet users. In Skitto SIM you will get super-fast internet. If you want to know How to Buy Data from Skitto SIM then this article is for you. The topic of my writing today is How to Buy Internet Data from Skitto SIM? I have tried to explain every step of buying data from Skitto SIM in a clear way.
Summery Of Buy Data from Skitto SIM.
After purchase Skitto SIM you are able to purchase data from this SIM. So, at first, I said that today I am going to discuss How to Buy Data from Skitto SIM. If you read this article from top to bottom then you have a clear idea and authentic information on How to Buy Internet Data from Skitto SIM is a little bit different from others.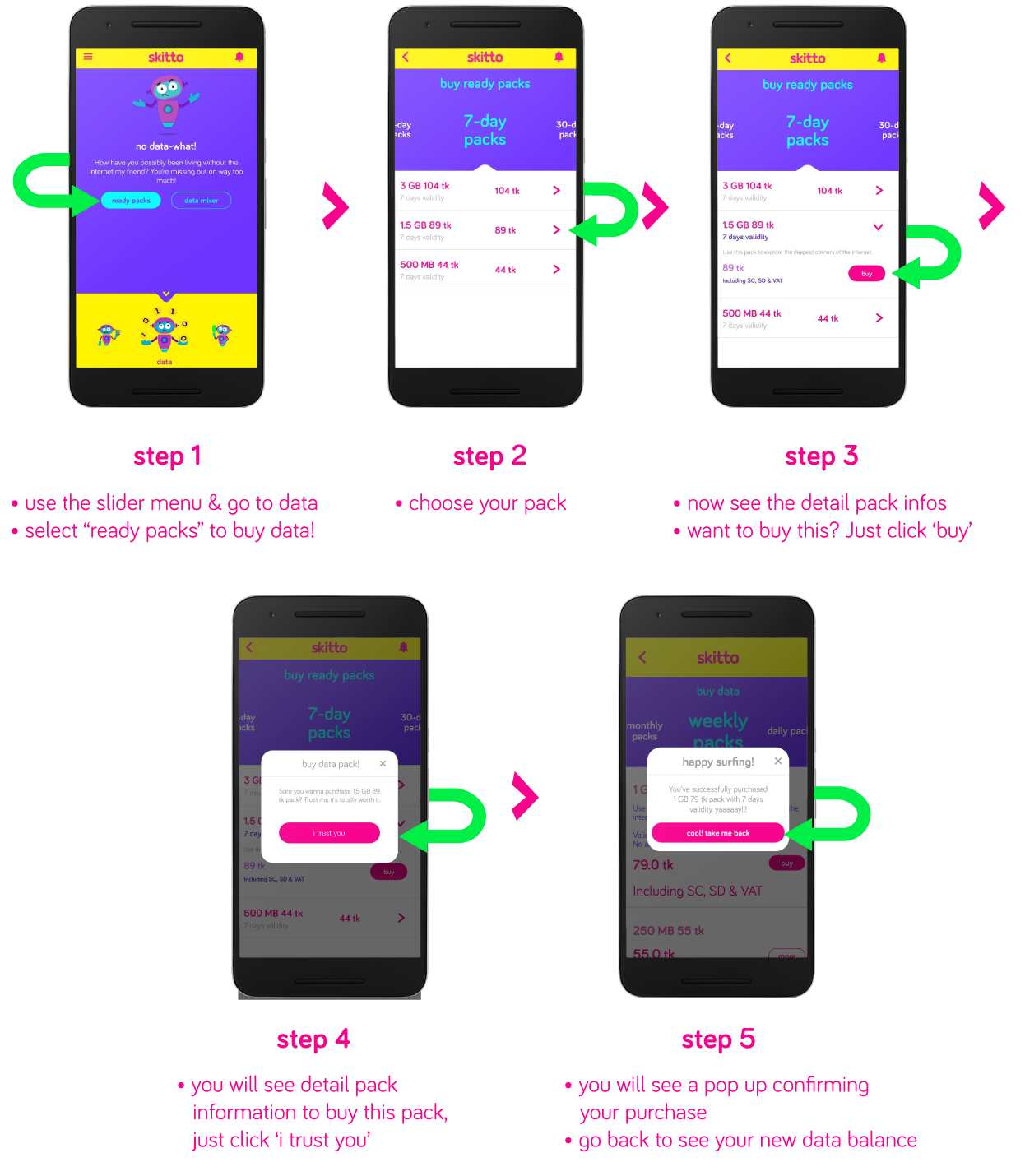 From other GP SIM you can purchase the internet either recharge a selected amount or if you're mobile has enough balance then you can dial a USSD code and get your desire internet data. But in Skitto SIM you have to install Skitto App to Buy Data From Skitto SIM. First, install the Skitto app from the Google play store. To install this Skitto app you need to have an Android or an Apple device to purchase data from Skitto app. After registration the app you can grab 3GB data on 7 days validity. So, Hopefully you have got idea about Buy Data From Skitto SIM from Online.
Check: How to Buy Skitto Sim Online?
Buy Skitto Internet Data From Online:
After log in Skitto app now slide left to the data option and you'll get so many exclusive packages. From this exciting offer packages you can choose more offers by sliding left or right. After choosing your suitable package then click on the buy now option to buy Data From Skitto SIM. You will see the data pack details and just click 'I trust you'. You will see a pop up confirming your internet package purchase. Now check your new internet balance. For your convenience below I give this step in form of list,
Step 1: Use the slider menu and go o data offer, you will see different data offer. And then select "ready packs" to buy data.
Step 2: Above different exclusive offer choose your pack which one you can afford.
Step 3: Now check the details info of your data pack and click "buy".
Step 4: Now you will see the details information of you selected pack, to buy this pack just click 'I trust you'.
Step 5: You willa pop up confirming your purchase of data pack. Now go back to see your data balance. 
To check your internet data balance, dial the code *121*1*3#. in the image you can get clear idea for Buy Data From Skitto SIM.
Know More: Skitto SMS Package Offer
Buy Skitto Data from Skitto Pick Up Points Or Online?
You can Buy Data From Skitto SIM by visiting any Skitto pick-up points or your nearest Skitto pick up points. You will need to bring your NID card or information when you buy the Skitto SIM. You can also get home delivery. This is a very helpful service you don't go outside just follow some steps and get it at your home
Skitto SIM Online Order Procedure:
First give your Location >> A Number for Verify>> Give your Details (Name, Gender, Occupation) >> Address >> Confirm.
The Price of Skitto SIM is only 200 Taka.
What is Skitto SIM?
Skitto SIM is specially designed for digitally savvy generation and data-hungry people. Who likes Grameenphone's network and a more internet user then Skitto SIM can be an excellent affordable SIM for those because in this creation the price of an internet package is usually a cheap rate from all other SIM. Skitto SIM has a super simple and fun app that you can control all features with just a touch. So, let's check the process of Buy Data From Skitto SIM
Need to Know: Skitto Call Rate Offer
Skitto SIM Data Offer:
In Skitto SIM you will find variety of offer packages and their validity is also different. Grameenphone has brought this skitto SIM to provide internet facility at low rates. They have placed internet packages between the two deals and they are,
Weekly and Monthly Offer
Promo Deals.
Skitto Weekly and Monthly Offer:
| | | |
| --- | --- | --- |
| Data Offer | Price | Validity |
| 500MB | 44 | 7 |
| 1.5GB | 89 | 7 |
| 3GB | 104 | 7 |
| 2GB | 229 | 30 |
| 7GB | 498 | 30 |
Click: Skitto Data Pack
Skitto Promo Deals Offer:
| | | | |
| --- | --- | --- | --- |
| Offer Name | Data Offer | Price | Validity |
| Ludur guti | 50MB | 2 | 3 |
| Katai Kati | 1GB | 24 | 3 |
| Lukochuri | 3GB | 50 | 3 |
| Borof pani | 1GB | 31 | 7 |
| Buskut dour | 1.5GB | 37 | 7 |
| Cycle race | 1GB | 50 | 30 |
| Carom board | 2GB | 76 | 30 |
| Pen fight | 3GB | 100 | 30 |
| Golir cricket | 5GB | 150 | 30 |
| Akashe ghuri | 8GB | 199 | 30 |
| Raster football | 17GB | 289 | 30 |
| Test match | 25GB | 399 | 30 |
| Biscope 7 days ticket | 105MB | 7 | 7 |
Link: Skitto Promo Deal Offer
Terms and Conditions:
All data prices include 10% (SD), 5%VAT AND 1% Surcharge.
There is no auto-renewal option.
Any remaining data volume will not be carried forward on next data purchase.
Video data pack can only used to browse YouTube, BongBD and Popcorn Live. 
Conclusion:
Buying a GP Skitto SIM data offer is a very simple process. This is not a complicated matter. I have tried to present all the information related to How to Buy Data from Skitto SIM simply and clearly. If you have read the article well, I hope everything will be easy for you. GP Skitto SIM is a necessary SIM for those who use the internet because there are all great internet offers.
You May Need: Skitto SIM Offer