According to the World Bank, Bangladesh is the least touristy destination in the world. Bordering with India and Myanmar, Bangladesh is one of the most beautiful countries in South Asia.
There are lots of tourist places in Bangladesh full of nature views and historical value with beauty. Tourism is yet to develop in Bangladesh but there are many beautiful places to visit.
Every corner here offers some incredible views and making it one of the best countries to travel. Tourist places in Bangladesh will get to experience the culture and tradition of this country.
Bangladesh offers a broad range of destinations to visit from hill to sea, whenever you go you can feel the beauty of nature. Stay connected lots more to explore.
Best Tourist Places in Bangladesh
Bangladesh is one of the small countries in South Asia but full of attractive place that may attract the tourist all over the world. Here you can enjoy the sunset from the hill and touch the cloud also watch the sunrise from the beach side. You can feel all the natural beauty in one country and that is Bangladesh.
Check: Bangladesh Cricketers Salary
Now let's explore the best tourist places in Bangladesh:
Dhaka
Sonargaon
National Memorial
Ahsan Manzil
Lalbag Fort
National Parliament House
National Zoo
National Botanical Garden
Chittagong
Chittagong Hill-Tracts
Cox's Bazar
Saint Martin Island
Nijhum Dwip
Comilla
Rangamati
Sylhet
Ratargul Swamp Forest
Jaflong
Sreemangal
Sunamganj
Bogra
North Bengal
Mahasthangarh
Paharpur
Puthia
Shat Gambuj Mosque
Barisal
Kuakata
Bandarban
Sajek Valley
Dhaka
Dhaka is the main Megacity and capital of Bangladesh. It stands on the Buriganga river. There are many favorite places in Dhaka for visiting such as like Hatirjheel, Dhakeshwari Temple, Buriganga River, Lalbag Fort, Ahsan Manzil, Parliament Building, Liberation War Museum, Shaheed Minar, Dhanmondi Lake, Ramna Park, Kakrail Mosque, National Zoo, Baldha Gardens, Shat Gambuz Mosque and more. However, many peoples do not count tourist places; they are going to necessary work. Anyway, if you wish to visit my favorite place in Bangladesh, you can go to Dhaka and Dhaka beside to enjoy many tourist spots.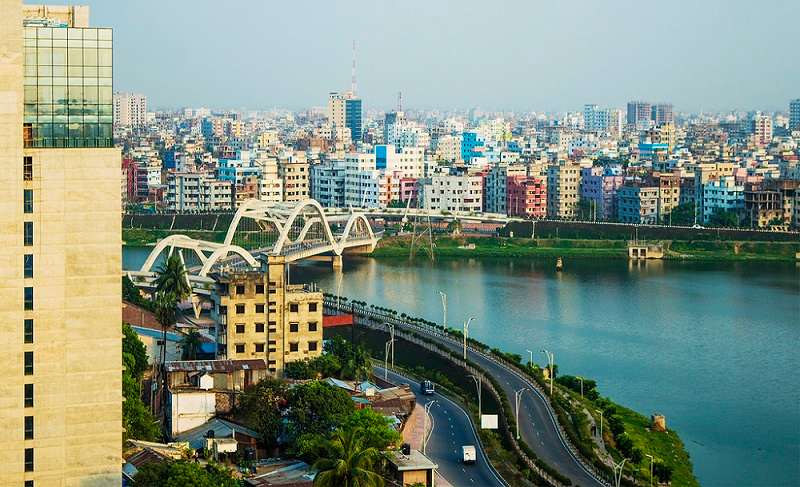 Sonargaon
Sonargaon is the historical city in central Bangladesh. It is one of the oldest historic port and trading region of Bangladesh. There are many oldest and newts tourist places for visiting Sonargaon such as Panam Nagar, Adamjee Jute Mill, Tomb of Sultan Gias Uddin Azam Shah, Baba Saleh Mosque, Goaldi Mosque, Sultan Jalal Uddin Fateh Shah mosque, Hajiganj fort, Sonakanda Fort, Kadmarsul Dargah, Bandar Shahi Mosque, Museum of Folk Art, Tomb of the Blessed Virgin Mary, Langalband temp and more. So, let's check and go to Sonargaon's most popular places to spend quality time.
Ahsan Manzil
Ahsan Manzil is the favorite tourist attractions place in located old Dhaka. It is situated at Kumartoli along the banks of the Buriganga River. It was founded in 1859–1872 and follow Architectural style Indo-Saracenic Revival architecture. In every year more about 3 million Visitors go to Ahsan Manzil for enjoying. Ahsan Manzil is the most popular residential palace in Dhaka city. If you wish to visit Ahsan Manzil, you can go by bus at keranigonj bridge beside the Sader Ghat.
Know More: Top 10 Resorts In Gazipur
Lalbag Fort
Lalbag Fort is another good place in located old Dhaka for looking historical place. According to history, Mughal Prince Muhammad Azam was started in 1678 for fort's construction after victory in Bangladesh, but she did not complete for father Aurangazeb call go back in Delhi. In next also his son Shaista Khan did not complete. In 1684 when his daughter Pari Bibi died. After her death, he wishes to started fort ominous and left the structure incomplete. There are several structures in Lalbag Fort, you can go, hope you will be enjoying by looking pleasant environment with mosque.
National Parliament House
National Parliament is the central Parliament of Bangladesh. It is the most significant building in by designed famous architect Louis I Kahn. The Parliament is the largest legislative complex in the world and divided into three parts, such as The Main Plaza, the South Plaza, and the Presidential Plaza. The complexes are very enjoying looking. I you wish to visit the National Parliament, you can go to the Dhaka Located at Sher-e Bangla Nagar in Dhaka.
National Zoo
National Zoo is the most important and famous animal zoo in Dhaka city. It was established in 1974, over 75.53 hectors of land. It is the most popular place in local people, especially for children—more than 2,000 animals in here. There are many animal collections, including birds, Royal Bengal Tiger, including Lions, elephants, cheetahs, rhinos, zebras, deer, giraffes, black bears, hippos, many species of monkeys, chimpanzees, baboons, etc. I hope you are enjoying it during the time when visiting the National Zoo.
National Botanical Garden
National Botanical Garden is a tree-based biggest place located in Dhaka, Mirpur. It was established in 1961. Over 84 hectors, you can see natural beauty. There are hundreds of varieties of trees, including roses, multiple types of bamboo, bamboo groves, sandalwood, old banyan trees, medicine trees, and many more. Here to get a cactus house, lily ponds, six lakes, two nurseries, an orchid house, a tissue culture research center, and a lotus pond for the visitor facilities.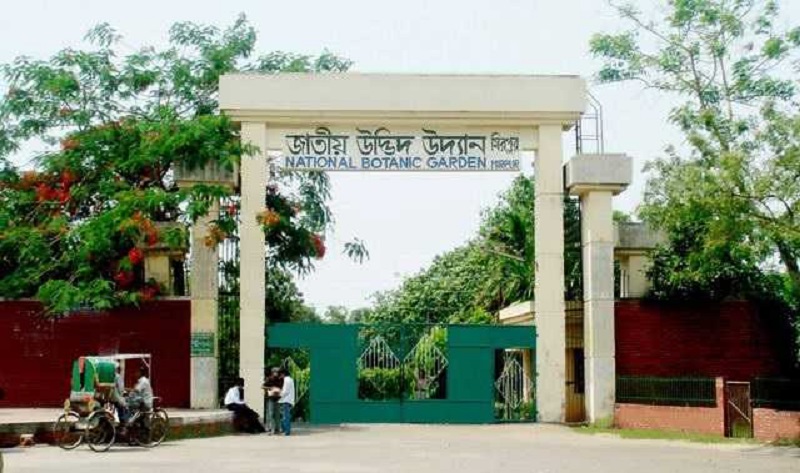 Chittagong
Chittagong is the second megacity and largest town in Bangladesh. The Port of Chittagong is the central economy zone of Chittagong. There are many places for visiting and a good time, such as Patenga Beach, Foy's Lake, Shrine of Baizid Bostami, World War II Cemetery, Ethnological Museum, Chittagong Medical College, Court Building, and Kattali Beach and more. If you wish to visit the most famous tourist spots in Chittagong, you can follow our listed tourist spots in Chittagong and go there.
Cox's Bazar (The Longest Natural Sandy Sea Beach)
Cox's Bazar located in the Chittagong division. Cox's Bazar is called the district headquarters of Bangladesh. The longest unbroken sandy sea beach in the world, which is 125km in length.
For a tourist Cox's Bazar is the most popular place to visit all around the tourist places in Bangladesh. The most interesting place to visit while you are here is the wholesale fish market in Cox's Bazar.
Another most famous attractions here are Buddhist monasteries named Aggmeda Khyang that you should visit. Cox's Bazar has many more things that can't avoid, like handicraft, a handmade cigar which is much popular to the visitors.
For the beauty of the beachside, people called it panowa means yellow followers. This place is the most visited tourist destination in the country and if you have enough budget and want to avoid the crowd, stay on a resort because they have their own personal beach.
Saint Martin Island (The Coral island in Bangladesh):
St. Martin is also located in Chittagong division, about 9 km south of the tip of the Cox's Bazar-Teknaf peninsula. It is a small adjoining island that is separated at high tide, which is also called Chera Dwip.
St. Martin is a small Island, its area only 36 km2 in the northeastern part of the Bay of Bengal, about 8 kilometers (5 miles) west of the northwest coast of Myanmar.
The only way to reach St. Martin's Island for tourists is by water transportation; it will boat or ships from Cox Bazar and Teknaf. Sun, sea, and palm trees all around the Island will blow your mind.
During the day time, the beachside becomes alive with water, beach sports, and beach parties; also, the bonfires lighting up the evening skies. In the evening time, the place is becoming very quiet. You can enjoy your day time by Fishing and walk by the sea beach. Oceanic scuba diving is a fascinating activity here.
Chittagong Hill-Tracts
Chittagong Hill-Tracts is the best place to visit in Bangladesh to have a good time if you are an adventure travel lover? You can go to the Chittagong Hill-Tracts. Here are many naturally beautiful places to enjoy adventure, by permission local authority, you can see many mountains, trees, rivers, monsoons, etc. in the Hill-Tracts area.
Comilla
Comilla is the best tourist place in Bangladesh. There are many places and picnic spots including, Shalbon Bihar, Lalmai Hills, Bangladesh Academy for Rural Development, Itakhola Mura, War Cemetery, Comilla Cantonment Maynamoti Museum, Shah Shuja Masque, and Comilla Zoo and more. If you are searching top tourist place in Bangladesh, you can go to Comilla, which helps in a short time to visit various tourist places.
Nijhum Dwip
Nijhum Dwip is best tourist attraction in Bangladesh for enjoying natural beauty with the ocean. It's called a small 'Silent Island' in Bangladesh, it is under the Noakhali District and Hatiya Upazila. Previous name is Char Osmani,Baluar Char, Golden Island. However, No,doubt, Nijhum Dwip is the best tourist place where you can see many memorable places such as clear sea beach, blue deep, deer, various trees, mangrove forests, monkeys,migrated birds etc.
Rangamati (The lake city of Bangladesh)
Rangamati is located in Chittagong Division. Rangamati is full of matchless beauty. The main attraction of this place is Kaptai Lake that's why Rangamati is known as 'Lake City' of Bangladesh.
Surrounded by beautiful hills this lake is a man-made lake. People are riding boats on kaptai lake for the whole day. Rangamati is also home to tribal groups and has the Buddhist monastery called Rajban Bihara.
You can visit the tribal people's market, where you can get beautiful handicraft and handmade world-class fabric also their traditional dress.
Rangamati Town contains its beautiful scenery of Hanging Bridge, Kaptai Lake, and Indigenous Museum. Rangamati is a notable landmark and popular tourist destination.
Sylhet
Sylhet is the most popular tourist place in Bangladesh; there are many locations for enjoying natural beauty such as Madhabkunda, Nazimgarh Resorts, Lawacherra Rain Forest, Sree Mangal, Greeva Peet, Jaflong, Hazrat Shah Jalal, and Shah Paran, Bisnakandi, Rema Kalenga Reserve Forest, Lalakhal, Khadimnagar Rain Forest, Sathchori National Forest, Panthumai, Ratargul Swamp Forest and more. Every year there are many Bangladeshi, and Foreign visitor goes Sylhet for seeing the best tourist place with family. If you wish to go for Sylhet's top tourist place journey, you must take a minimum of 5 days, that will help to cover Sylhet are places.
Jaflong
Jaflong located in the Sylhet division Whenever you are thinking of getting relief in the lush green hills, Sylhet Jaflong is sure to come in one's mind. You can never deny the scenic beauty of Jaflong if you a true tourist who wants to come close to nature.There are several places to visit in Sylhet, Jaflong is one of them. Nature has showered with numerous gifts to this region. Sylhet has so many great places to visit like Jaflong.
Thinking about Jaflong, actually meaning the Jaflong Zero Point. Zero-point not exactly in the Sylhet, so, you will have to go to the Bangladesh-India border to enjoy this beauty.Jaflong has so much natural beauty to offer, that's why people love different things about this place. But no one can deny seeing the sight of the waterfalls of Meghalaya from the green hills of Meghalaya will stun you with its magnificence.
Then with the crystal-clear water and millions of colorful stones, there is the Piain river. Jaflong looks different in different weather. Lucky people also can enjoy both the rain and the mild sun in the day.Another reason for the Jaflong tourist spot is one of the best in Bangladesh is the Sengram Punji waterfall and the waterfall is in their village.
Sreemangal (The Tea Capital of Bangladesh)
Sreemangal is located in the Sylhet Division. Sreemangal is a hilly area covered with tea estates that's why it called tea capital of Bangladesh. For a beautiful tea garden, people called this place 'two leaves and a bud'.
Every year a large portion of the top qualities' tea is grown here because in Sreemangal there are 47 tea gardens. This part of the Sylhet division is famous for a tea garden, nature, forests, and wildlife all in together.
The Lawachara National Park Which is the tropical rain forest, Madhabpur lake which is called the lake of lotus, Tea gardens, Madhabkunda Waterfall the highest waterfall in Bangladesh is the main attraction for the tourist. Hum hum Waterfall (newly discovered exclusive waterfall) is a must to see.
Satchari National Park, Jaflong-Tamabeel (scenic spots in Sylhet), The shrine of Hazrat Shah Jalal, and Shah Poran in Sylhet, Nimai Shib Temple, Hakaluki Haor (wetland) is also attracting the tourist. This area of Bangladesh is full of attractive things to see and feel nature.
You can also spend some time with Monipuri & Khashia tribal villages to take world-famous 7 layer-color tea. That's why it's the best tourist places in Bangladesh.
Ratargul Swamp Forest:
Ratargul is the most popular and different types of tourist place in the Sylhet Division. It is an uncommon place in the world by enjoying Gowan River, Gowainghat, freshwater swamp forest in Bangladesh; it's another name is "Amazon of Bangladesh" Mainly, you can enjoy evergreen forest blooms beauty in the rainy season.
Ratargul Swamp Forest's total area 3,325 acres and main trees are Koroch and Hizal. You will see monkeys, snakes, frogs, and many types of birds in the Ratargul forest. By hiring a local wooden boat, you can enjoy the fabulous beauty of this forest during the time.
Sunamganj
Sunamganj is one of the best tourist places in Bangladesh. It is a district of the Sylhet Division as a name Sunamganj District; in recent times, Sunamganj becomes the best tourist place for various places like Jadukata River, Tanguar Haor, Shimul Bagaan, Takerghat, etc. For perfect moonlight night enjoying, you can go Sunamganj Tanguar Haor instead to kuyakta. February and March are a good time to visit Shimul Bagan. There is another place of Hason Raja and Shah Abdul Karim House.
So, hope you understand the visiting place in Sunamganj, if you want to go there, please make planning by reading our top text with at a time to go both places Sylhet and Sunamganj beautiful place.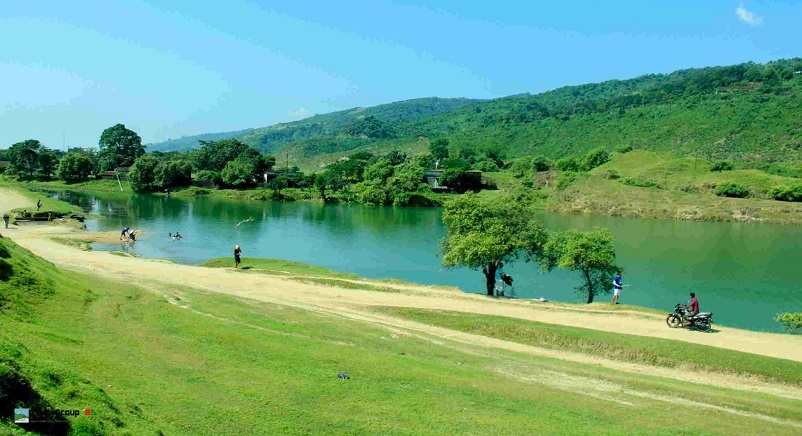 North Bengal
North Bengal is the mean of the North-Western part of Bangladesh; it indicates mainly Rajshahi and Rangpur division. There are many historical places such as North Bengal like Choto Shona Mosque in Chapai Nawabganj, Mahasthangarh in Bogra, Natore Rajbari, Paharpur Buddhist Monastery, a little village named Puthia, the Kantajees Temple in Dinajpur, etc.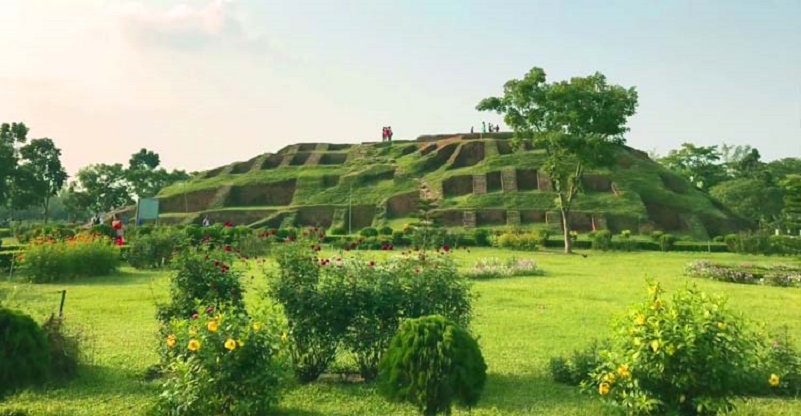 Bogra
Bogra is one of the oldest towns and most unique places in Bangladesh to visit the historical place; it is a district of Rajshahi Division. If you wish to top tourist places in Bangladesh, no doubt, Bogra is one of the best choices for historical visit places like Lakshindar Behular Basar Ghar, Mahasthangarh, Behular Bashor Ghar, Jaina Temple Nawab Palace and many more.
Every year there are lots of foreigners who start their journey to enjoying Bogra popular places. I hope to understand the tourist attractions in Bogra, so make a plan for visiting the best place in Bogra, which helps to enjoy your time and see a beautiful place in Bogra.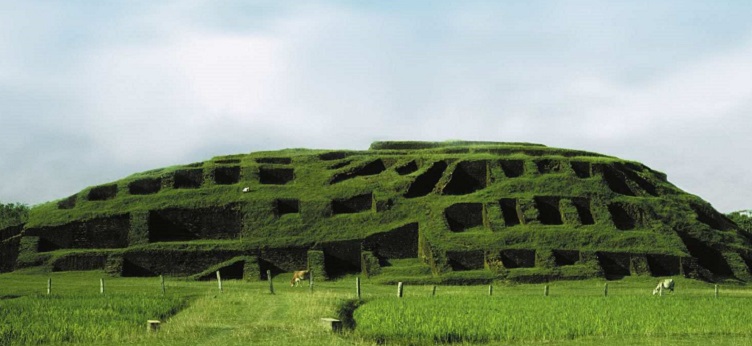 Mahasthangarh
Mahasthangarh is the most attractive and popular tourist place in Bogra District. It is Only 13 Km fare form Bogra town if you wish to go the Mahasthangarh by brick, bus. Mahasthangarh is the highest area of Bangladesh, more about 36 meters above. You can go to the place and enjoying the charming environment.
Paharpur
Paharpur is located in the Rajshahi division. Bangladesh is among the best known Buddhist viharas is here and it is one of the most important archaeological sites in the country.
Most importantly It was designated as a UNESCO World Heritage Site in 1985. In Bangladesh, this is called Shomapuri Mahabhihara and it was the second-largest Buddhist monastery of South Himalayas in the 8th century.
On that prime time, this is the world's best Buddhist monastery and monks from all over the world used to come here for higher education. This place is like a wealth and most impressive archaeological base top tourist places in Bangladesh.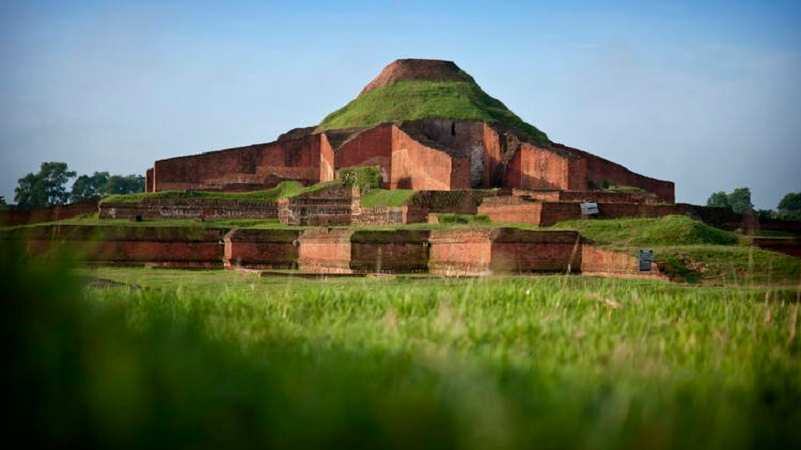 Puthia
Puthia is located in the Rajshahi division. As history says Initially, Puthia was a village of Laskarpur Pargana
Puthia is a small village in Rajshahi but it full of beautiful Hindu temples, this place is containing the largest number of temples in Bangladesh. With the unique design and beautiful terracotta plaques describe the epic Hindu stories.
For a visitor, this place is must visit to know about the long history of Bangladesh. Puthia Rajbari is the main attraction in this place. Two-storied Puthia Rajbari is the most notable structure in the area faces which have four-storied large pyramidal called dol Mancha.
The area is also full of lots of beautiful and elegant temples like the Pancharatna Govinda Temple, the hut-shaped Jagaddhatri Temple, and the large Shiva Temple. All the temples are embellished with terracotta sculptures. So, this historic place is must be visiting place in tourist places in Bangladesh.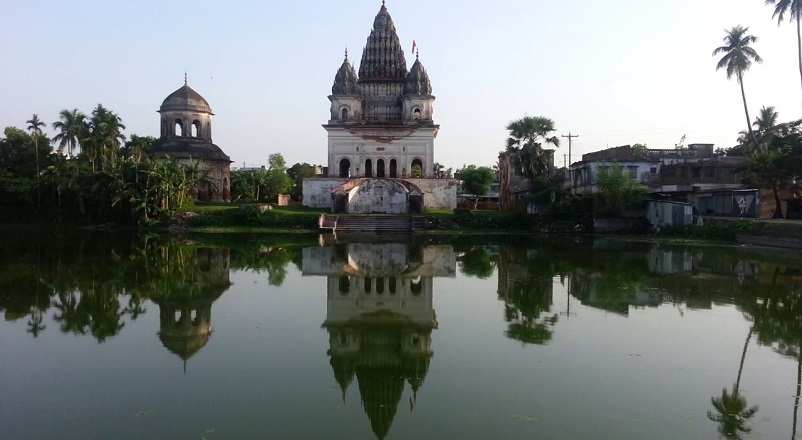 Shat Gambuj Mosque
The Mosque City of Bagerhat is located in the Khulna Divisions Bagerhat district. Bagerhat is known as the city of the mosque and It contains several mosques built during the Bengal Sultanate in the 15th-centuries.
There are several mosques like Singair Mosque, the Nine Dome Mosque, the Tomb of Khan Jahan, the Bibi Begin Mosque, and the Ronvijoypur Mosque but the Sixty Dome Mosque is the largest and world-famous.This historical mosque city is recognized as a UNESCO world heritage site in 1983 because of its outstanding example of an architectural ensemble which illustrates a significant stage in human history.
The magnificent city, which contains some of the most significant buildings of the initial period of the development of the Muslim architecture of Bengal. This area exhibits a unique architectural style. Khan-e-Jahan which is the only known example in the history of architecture. All the structures are featuring traditional practice and contributing the social harmony. This place is an unavoidable best tourist city in Bangladesh.
Barisal
Barisal is the popular district for looking at many places, especially for enjoying the river; if you are a river lover, you can go Barisal Division, more about 19 tourist attractions in Barisal division as visiting water landmarks and nature attractions like Patuakhali, Jhalokati, Pirojpur, and Barguna . Barisal Division's best and most popular places are Kuakata Sea Beach,Barisal Divisional Museum,Guthia Baitul Aman Jame Masjid Complex,Durga Sagar, Lakutia Zamindar Bari, Bhandaria Shishu Park,Bibichini Shahi Mosque,Bir Sreshtho Mostafa Kamal Memorial Museum,Fatrar Char, Kirtipasha Zamindar Bari and more. So, you can go to Barisal most popular places with the family to have a good time.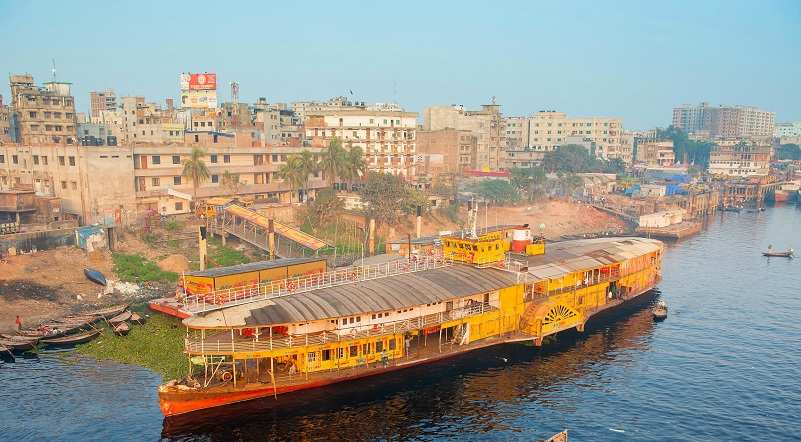 Kuakata
Kuakata is the most famous tourist place in Bangladesh at the Patuakhali district. Kuakata beach is a sandy expanse 18 kilometers long and 3 kilometers wide. It's another name is Sagar Kannya or the Daughter of the sea. It is the number one unique place where you can see at a time sunrise and sunset. Kuakata beach is a wonderful combination of blue sky, natural beauty, vast bay, evergreen jhaubon and more. You can also see 100 Years Buddhist temple and two wells of about 200 years old.
Bandarban
If you are a beauty lover, please, you can go to Bandarban. There are many natural beauties and wonderful, charming places in Bandarban District, such as Nilachal, Nilgiri Hill Resorts, Meghla, Boga Lake Bandarban, Tajingdong, Sangu river, Chimbuk, Bandarban Golden Temple (Buddha Dhatu Jadi), Nafakhum Waterfall, Thanchi and more. Hope by visiting Bandarban the best place you will enjoy.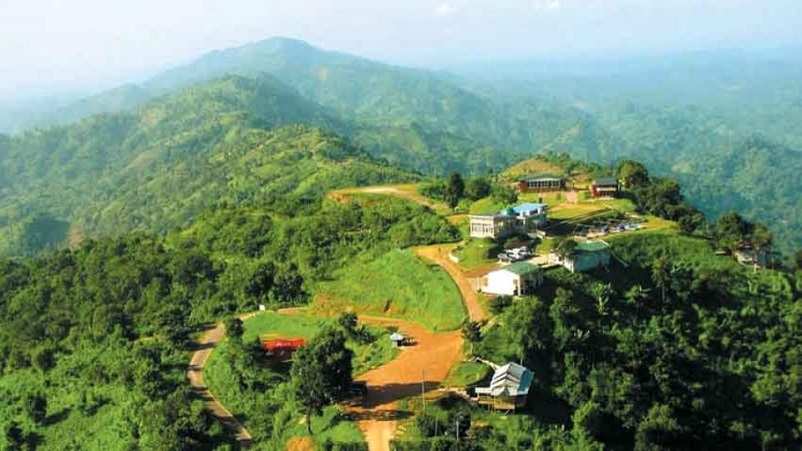 Sajek valley (The queen of hills and a walk in the cloud)
Sajek valley located in the Chittagong division, It's under Baghaichori Upazila in the Rangamati hill district. Nowadays Sajek valley is one of the most popular tourist spots among the tourist places of Bangladesh.
The valley is situated in the tallest hill called Kasalong. The height of the hill is around 1800 feet from the sea level. The name sajek has come from the name of sajek river which is flowing between India and Bangladesh border. Sajek valley called "Queen of hills "it's also known as Roof of Rangamati".
The valley is just 8 km far from Mizoram, India. The clouds and sudden rain on the valley are the key attraction for visitors. You can touch the cloud, enjoy the sunset, and feel the beauty of nature from the hill.
There is a lot of beautiful places near Sajek Valley, one of the places called Marishsha. Another famous place near sajek is Kanlak which famous for its orange orchard. Kachalon and Machalong are famous small rivers flow through the hills.
Here most of the houses are made with bamboo. Their various types of tribal stay here on the valley mostly is Chakma, Marma, Tripura, Pankua, Lushai, and Sagma.
Another most famous thing which you will don't want to miss is the bamboo chicken curry. The most popular food item in this area. To enjoy the cloud ,rainy season is the best time to travel sajek valley.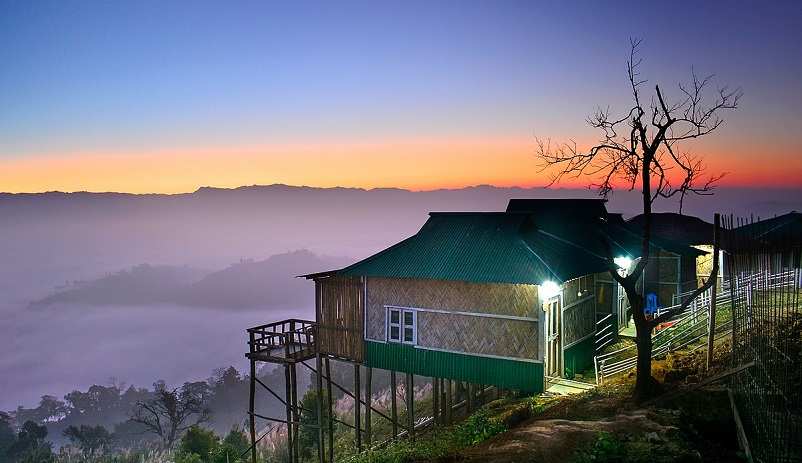 Sundarbans (Mangrove Forest)
Sundarbans located in the Khulna division in Bangladesh. Sundarbans is a unique eco-tourism destination and the largest mangrove forest on earth. Sundarbans is one of the UNESCO world heritage sites.
Sundarbans located between two neighboring countries, it's India and Bangladesh but the majority of the forest is located in Bangladesh. Sundarbans is the homeland of the last remaining Bengal tigers. This area is also known for 260 bird species and a wide range of fauna.
For the mangrove flora and fauna both on land and water, this place is internationally recognized for its high biodiversity. Bengal tiger, estuarine crocodile, and the Indian python all are threatened species.
The Sundarbans contain lots of important spices like Royal Bengal Tiger, Ganges and Irrawaddy dolphins, estuarine crocodiles, and the critically endangered endemic river terrapin for globally endangered.
Final Words:
You will find the best natural beautiful tourist places in Bangladesh. Traveling to Bangladesh will give you to explore lots of beautiful and interesting places. Bangladesh marked as lush greenery with rich culture is a vision to the eyes. Every corner here will surprise you with its incredible views and every corner is the best tourist places in Bangladesh.
Bangladesh is full of natural beauty, Historical place to the hill, forest to seaside everything you will get here. You cannot be ignorant of some of the highly magnificent places without visiting them, which are the sign
Must Read: MV Green Line Water Bus Schedule